Song of the Day – Ronnie Pfeil – End of a Long Goodbye
Audio Clip – End of a Long Goodbye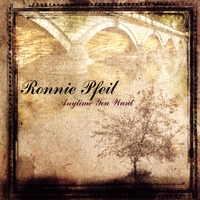 Ronnie Pfeil's debut album "Anytime You Want" is a tribute to his traditional country roots and a stellar cap to his career as steel guitar player for some of country music's biggest names, having shared the stage with legends through the years on steel guitar.
With Bobby Flores as producer and an A-list of regional musicians in the studio Pfeil's new release pays musical homage to the music he's loved and performed throughout his life and also tips his hat to a handful of current songwriters who've created music in the same classic vein.
The survival of any genre of music is dependent on its preservation and perpetuation for the next generation. Ronnie Pfeil demonstrates the value of the concept with this debut release "Anytime You Want."
Traditional country music aficionados will enjoy the superb arrangements of such classics as I Love You Because, Funny How Time Slips Away and She Thinks I Still Care but they'll be delighted in the gems he's brought to the table from contemporary songwriters.
Highlights are many but definitely include End of a Long Goodbye written by Gary Nicholson and Russell Smith and the title track, Anytime You Want, which was penned by Cary Clark.
Anytime You Want is a tribute to not only what country music was, but what it can still be.
3 Responses to "Song of the Day – Ronnie Pfeil – End of a Long Goodbye"
Ronnie's one in a million!

I loved your music it was awsome!!!!!!!!!!!!!!

love,
hannah

I knew you could do it. Im proud of you. love always your son.